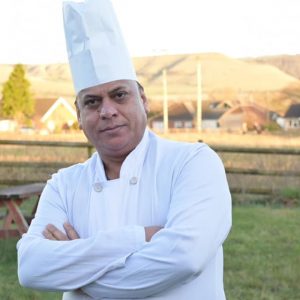 The Haveli is proud to present one of the finest chefs, skilled in the Art of indian Cuisine. Ramesh Prasad started his journey with President Hotel in Chandigarh, India in 1998. Due to his drive, passion and talent, Prasad was quickly to promote Head Chef where he continued to develop his talents in Indian and continental food.
In Year 2003 chef Prasad moved to Germany to shine his career and he started as a Head Chef in Taj Mahal Indian restaurant. Chef Prasad decided to progress his career here in Uk. Since he arrived, Prasad has spent time working within a well known The Palm Indian in Marlborough as a Sous Chef and then promoted to Executive Chef. Prasad has a huge knowledge in Indian Cuisine.
Chef Prasad is passionate and extremely serious about food hygiene. He is an experienced and works efficiently even if the kitchen is extremely busy. He also make sure that all food is served in an attractive and breath taking manner. Chef Prasad welcomes your valuable feedback, which he utilises to create and develop new and improved dishes.